By John Rapley
The Irish have been known to describe their notionally Catholic land as one where a thin Christian veneer was painted over an ancient paganism. The same might be said of our own adherence to today's neoliberal orthodoxy, which stresses individual liberty, limited government and the free market. Despite outward observance of a well-entrenched doctrine, we haven't fully transformed into the economic animals we are meant to be. Like the Christian who attends church but doesn't always keep the commandments, we behave as economic theory predicts only when it suits us. Contrary to the tenets of orthodox economists, contemporary research suggests that, rather than seeking always to maximise our personal gain, humans still remain reasonably altruistic and selfless. Nor is it clear that the endless accumulation of wealth always makes us happier. And when we do make decisions, especially those to do with matters of principle, we seem not to engage in the sort of rational "utility-maximizing" calculus that orthodox economic models take as a given. The truth is, in much of our daily life we don't fit the model all that well.
For decades, neoliberal evangelists replied to such objections by saying it was incumbent on us all to adapt to the model, which was held to be immutable – one recalls Bill Clinton's depiction of neoliberal globalisation, for instance, as a "force of nature". And yet, in the wake of the 2008 financial crisis and the consequent recession, there has been a turn against globalisation across much of the west. More broadly, there has been a wide repudiation of the "experts", most notably in the 2016 US election and Brexit referendum.
Get Evonomics in your inbox
It would be tempting for anyone who belongs to the "expert" class, and to the priesthood of economics, to dismiss such behaviour as a clash between faith and facts, in which the facts are bound to win in the end. In truth, the clash was between two rival faiths – in effect, two distinct moral tales. So enamoured had the so-called experts become with their scientific authority that they blinded themselves to the fact that their own narrative of scientific progress was embedded in a moral tale. It happened to be a narrative that had a happy ending for those who told it, for it perpetuated the story of their own relatively comfortable position as the reward of life in a meritocratic society that blessed people for their skills and flexibility. That narrative made no room for the losers of this order, whose resentments were derided as being a reflection of their boorish and retrograde character – which is to say, their fundamental vice. The best this moral tale could offer everyone else was incremental adaptation to an order whose caste system had become calcified. For an audience yearning for a happy ending, this was bound to be a tale of woe.
The failure of this grand narrative is not, however, a reason for students of economics to dispense with narratives altogether. Narratives will remain an inescapable part of the human sciences for the simple reason that they are inescapable for humans. It's funny that so few economists get this, because businesses do. As the Nobel laureates George Akerlof and Robert Shiller write in their recent book, Phishing for Phools, marketers use them all the time, weaving stories in the hopes that we will place ourselves in them and be persuaded to buy what they are selling. Akerlof and Shiller contend that the idea that free markets work perfectly, and the idea that big government is the cause of so many of our problems, are part of a story that is actually misleading people into adjusting their behaviour in order to fit the plot. They thus believe storytelling is a "new variable" for economics, since "the mental frames that underlie people's decisions" are shaped by the stories they tell themselves.
Economists arguably do their best work when they take the stories we have given them, and advise us on how we can help them to come true. Such agnosticism demands a humility that was lacking in economic orthodoxy in recent years. Nevertheless, economists don't have to abandon their traditions if they are to overcome the failings of a narrative that has been rejected. Rather they can look within their own history to find a method that avoids the evangelical certainty of orthodoxy.
In his 1971 presidential address to the American Economic Association, Wassily Leontief counselled against the dangers of self-satisfaction. He noted that although economics was starting to ride "the crest of intellectual respectability … an uneasy feeling about the present state of our discipline has been growing in some of us who have watched its unprecedented development over the last three decades".
Noting that pure theory was making economics more remote from day-to-day reality, he said the problem lay in "the palpable inadequacy of the scientific means" of using mathematical approaches to address mundane concerns. So much time went into model-construction that the assumptions on which the models were based became an afterthought. "But," he warned – a warning that the sub-prime boom's fascination with mathematical models, and the bust's subsequent revelation of their flaws, now reveals to have been prophetic – "it is precisely the empirical validity of these assumptions on which the usefulness of the entire exercise depends."
Leontief thought that economics departments were increasingly hiring and promoting young economists who wanted to build pure models with little empirical relevance. Even when they did empirical analysis, Leontief said economists seldom took any interest in the meaning or value of their data. He thus called for economists to explore their assumptions and data by conducting social, demographic and anthropological work, and said economics needed to work more closely with other disciplines.
Leontief's call for humility some 40 years ago stands as a reminder that the same religions that can speak up for human freedom and dignity when in opposition, can become obsessed with their rightness and the need to purge others of their wickedness once they attain power. When the church retains its distance from power, and a modest expectation about what it can achieve, it can stir our minds to envision new possibilities and even new worlds. Once economists apply this kind of sceptical scientific method to a human realm in which ultimate reality may never be fully discernible, they will probably find themselves retreating from dogmatism in their claims.
Paradoxically, therefore, as economics becomes more truly scientific, it will become less of a science. Acknowledging these limitations will free it to serve us once more.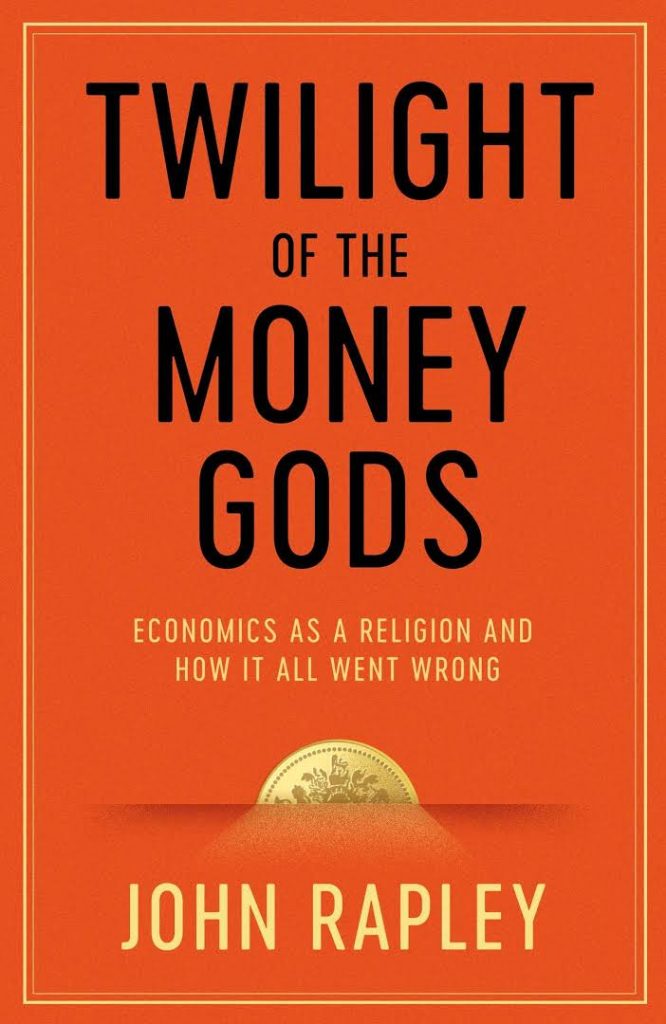 Adapted from Twilight of the Money Gods: Economics as a Religion and How it all Went Wrong by John Rapley, published by Simon & Schuster.
2017 July 13
---
Donating = Changing Economics. And Changing the World.
Evonomics is free, it's a labor of love, and it's an expense. We spend hundreds of hours and lots of dollars each month creating, curating, and promoting content that drives the next evolution of economics. If you're like us — if you think there's a key leverage point here for making the world a better place — please consider donating. We'll use your donation to deliver even more game-changing content, and to spread the word about that content to influential thinkers far and wide.
MONTHLY DONATION
$3 / month
$7 / month
$10 / month
$25 / month

ONE-TIME DONATION
You can also become a one-time patron with a single donation in any amount.
---
If you liked this article, you'll also like these other Evonomics articles...
---
BE INVOLVED
We welcome you to take part in the next evolution of economics. Sign up now to be kept in the loop!